4 Cool Office Decor Ideas For Men
Are you a man who's looking to spruce up his office space? Are you tired of the same old white walls and boring décor? It's time to take things up a notch with some cool office decor ideas for men. So, what are some cool office decor ideas for men?
Some cool office decor ideas for men are to use an industrial, contemporary, mid-century modern, or rustic design and decor style. From classic pieces of décor like vintage lamps and bookshelves to more modern designs such as wall art and geometric furniture, there is something out there to refresh any man's office space.
From modern furniture pieces to bold graphic prints, and light fixtures, this blog post will have something that any guy can use to breathe new life into his workspace. So, put away the drab monochrome look and let your personality shine through in your creative office design!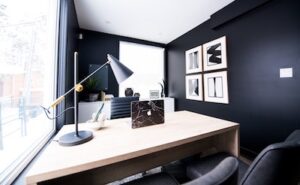 Why You Should Add Decor to Your Office
Having your own personal sense of design style is important for a variety of reasons. First, it helps you to express yourself and stand out from the crowd. Your unique style can be an extension of who you are and allow you to convey your personality without saying a word. It's also a great way to boost your self-confidence since when your space looks good, you feel good too!
Additionally, having your own personal sense of style can make it easier to create memorable looks that will last for years or even decades. That's why you need to create a design that fits your preference. Developing a signature style is key in creating designs that speak volumes about who you are as a person and what kind of statement you want to make. Finally, having your own personal sense of style is essential in giving yourself a unique perspective that sets you apart from others. It doesn't matter if it's a bold and daring look or something more traditional, having your own individual style can make all the difference when it comes to making an impression. No two people have the exact same sense of style and that's what makes interior design so special—it allows everyone to express themselves in their own way!
Office Decor and Design Style Ideas for Men
When it comes to decorating a space, there are several options for men looking to add a bit of flair and sophistication to their living spaces. Interior design ideas for men can range from modern and minimalistic designs to rustic and industrial styles. Here are some great interior design ideas that any man can use to create his perfect haven:
1. Industrial Style
For the man who appreciates the ruggedness of industrial style, this look is both interesting and stylish. Industrial-style interior design is characterized by its minimalist and functional approach. It often combines exposed brick, metal accents, unfinished woods, and concrete surfaces to create a unique aesthetic. While industrial interiors may appear cold or stark at first glance, it can be quite inviting with the right touches of texture and warmth. Here are some tips for decorating an interior space in an industrial style:
Opt for neutral colors such as white, gray, black, and brown. These colors will help create a blank canvas that you can build upon with more interesting objects.
Incorporate reclaimed materials into your home's look. Objects like old pipes or wooden beams from factories provide rustic charm while giving the space an authentic industrial vibe.
Choose furniture and pieces with a modern, minimalistic feel. Simple lines will help to create an elegant look in your home.
Add touches of warmth with rugs and textiles. Rugs can be used to break up the coldness of hard surfaces while providing extra comfort underfoot. Textiles such as cushions, throws, or curtains can give a room a softer look and feel without sacrificing the industrial aesthetic.
Introduce lighting fixtures that have an industrial style but still provide ample illumination for your space. Look for pendant lamps or exposed lightbulbs that embrace the raw materials found in industrial design.
Utilize wall accents to add dimension and interest to a room's look. Pieces like wall art, mirrors, or a clock can add visual interest to the room without taking away from its industrial vibe.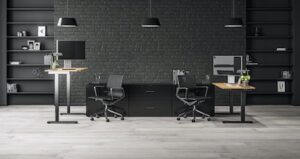 2. Contemporary Look
Sleek lines in contemporary pieces can create a clean, modern look. Interior design in a contemporary style combines aesthetic appeal with practicality. To achieve this look, focus on clean lines and modern materials such as glass, chrome, and steel. Make sure to incorporate plenty of light in the space by using natural sources where possible or choosing warm light fixtures that match your decor. Choose furniture pieces that have a minimalist design; for example, opt for a low-profile sofa and sleek side tables. Incorporate geometric patterns into the room through accent pieces like rugs or wall art.
To create an inviting atmosphere, use muted colors with pops of brighter shades to draw attention to particular areas. Balance elements such as wood floors and finishes with vibrant fabrics and soft textures like velvet or silk pillows. Utilize metallic accents such as bronze, gold, and silver in lamps, furniture, or wall art. Incorporate plants throughout the space for a natural touch; they will also help to purify the air. Finally, hang mirrors strategically around the room to make it appear larger while adding an interesting design element.
3. Mid-Century Modern
For men who appreciate classic style, mid-century modern pieces are ideal for creating an interesting atmosphere.
The mid-century modern style is characterized by its clean lines, minimalist shapes, and natural materials. To achieve this look in your home, focus on bringing together a variety of neutral colors, unique furniture pieces, and interesting accessories.
When it comes to color schemes, the mid-century modern style favors earth tones such as browns, tans, and greys. Use these colors to create monochromatic looks or mix them with pops of bolder shades like deep blues or forest greens for contrast. When selecting furniture, opt for pieces with tapered legs made from wood or metal – think chairs, sofas, and coffee tables. Look for items that are low in profile but still offer plenty of comfort and style. Don't forget to accessorize with items that hold true to the mid-century modern style such as geometric-patterned rugs, sculptural wall hangings, and statement lighting fixtures like pendant lamps. Finally, add in some plants and natural elements for a touch of warmth. With these tips, you'll be sure to achieve mid-century modern perfection in your home.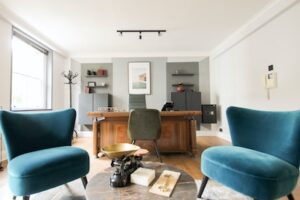 4. Rustic Design
If you want to create a cozy atmosphere in your home, then the rustic design is perfect for you. When it comes to decorating an interior design in rustic style, there are a few key elements to keep in mind. First of all, you want to focus on natural materials like wood and stone, as these are the building blocks of a rustic aesthetic. Keeping the space earthy and natural-looking is key; choose furniture with simple lines, exposed woods, and soft fabrics. You can also add some antique pieces for a hint of vintage charm.
Lighting is also important for creating a cozy atmosphere that fits your rustic design scheme. Consider using both overhead lighting fixtures as well as floor lamps or wall sconces to create layers of light throughout the room. Adding candles or lanterns can also give off a warm, inviting glow.
Finally, accessorizing the space with rustic decor pieces will complete the look. Displaying vintage items like antlers, old books, and even tools can give a room an authentic rustic feel. Woven baskets, brass candlesticks, and other rustic-style accents are also great for adding texture and personality to your interior design.
Conclusion
No matter what style you choose, make sure that it fits your personality and creates an atmosphere that makes you feel comfortable. With these interior design ideas for men, you can create the perfect space that reflects your unique taste and interests.